IBE's libraries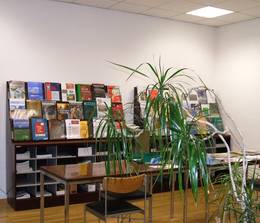 IBE has a specialized library that collects materials and resources in the following areas of science:
in Sesto Fiorentino (FI) headquarter
– biodiversity and germplasm
– plant propagating and nursery
– wood technology
– forest mechanization and its use



in San Michele (TN) headquarter


– wood technology and construction
– forestry technologies and first processes
– industrial technologies and its products

The heritage currently consists of approx. 25,000 documents (books, manuals, conference proceedings and multi-media products) and 100 paper periodicals. It is also possible to consult approx. 3000 electronic periodicals and databases on cd-rom and on-line concerning the sector ¿tree/wood species.
The patrimony can be consulted through a bibliographic catalogue computerized in net and the collective catalogue of the serial patrimony of the CNR.
The library is accessible to internal and external users, scholars, researchers, graduates and doctoral students, who can make use of, in addition to online catalogues, staff advice.
Bibliographic and documentary research, document delivery and photoreproduction services are also offered within the limits of the limits.
The purpose of the library is not only to acquire, preserve and make available to the public a vast and up-to-date scientific documentation, but also to promote and disseminate information and encourage an interest in wood and tree species.